Stocks Farm has been in the Capper family for 56 years.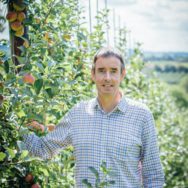 Richard Capper has lived at Stocks Farm all his life and has farmed here since leaving Cirencester Agricultural College over 25 years ago.  As Head of the Farm, Head of the Household, Chief Fixer and General Superman, Richard is particularly pleased with his new projects – experimental hopyards and the new Red Windsor orchards.  He is a very keen cyclist and in June 2016 undertook the Hop Cycle Challenge from John O'Groat's to Lands End with hop merchants Paul Corbett and Andrew Whalley, and Head Brewer from St Austell Brewery, Roger Ryman.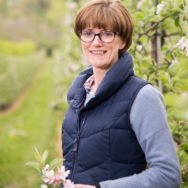 Ali Capper when she is here, loves showing people around the farm and sharing her encyclopaedic knowledge of all things hops and apples.  When she is not here, she is Chairman of NFU Horticulture & Potatoes Board, Director of the British Hop Association, Trustee of the Nuffield Farming Scholarship Trust, Director of Wye Fruit, Parent Rep for Malvern St James Girls School and did we mention her most important jobs, Wife to Richard and Mum to Paddy and Serena.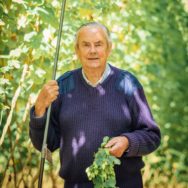 Mark Capper bought Stocks Farm in 1962 and although he is still an integral part of the running of the farm, his son Richard and wife Ali now run the farm day to day.  Mark has always kept abreast of the latest farming technology and maintained the highest standards which is why the farm continues to thrive.  He and Rosie (his faithful black labrador) still go out on the farm day in day out, come rain or shine, to have a look and offer advice when necessary.  He loves reading, gardening and working on creative projects for example designing and building the summer house – a popular destination when the sun shines and there is a newspaper to read.
At Stocks Farm we take great pride in the work that we do, while making sure we care for the environment too. This way it benefits the local community and the next generation of Cappers, our children Paddy and Serena, aged 15 and 11 years old, not forgetting Jack Russell Bertie and Cats Treacle and Snuffles who complete the family.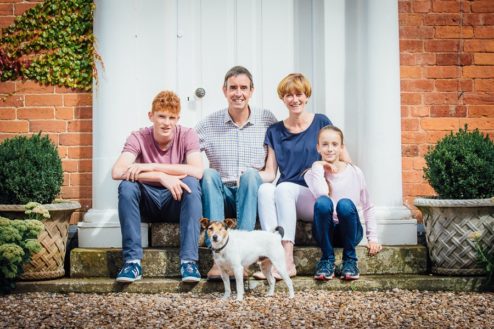 Working on the farm are: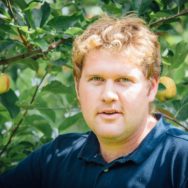 George Veltom – the youngest and most recent member of the Stocks Farm team, George arrived here from Kent last year and hasn't looked back!  He loves the Worcestershire countryside and as Farm Manager has the unenviable task of keeping everybody calm in the manic harvest season as well as managing people, expectations, machines and coping with the variable British weather throughout the year.  This is always done with a cheery smile and a wave if you pass him in the road in his landrover!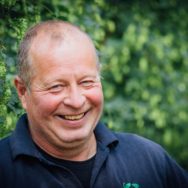 Steve Harper – AKA Mr Hop!  As the longest serving member of the Stocks Farm team, there is nothing that Steve doesn't know about the farm, the machines and especially the hops and how to deal with them throughout the year.  He is Chief Maintenance of Machines so that everything is in excellent working order for the 8-10 week harvest and he also runs the hop picking machine.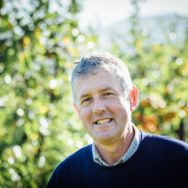 John Blandford – AKA Mr Apple!  A quiet presence around the farm ensuring that everything runs smoothly, John can put his hand to everything 'apple'.  He is especially adept at manoeuvring fork lift trucks, tractors, trailers, apple bins, apple trains and anything else on wheels and ensuring that everything and everyone keeps going during the apple harvest.  John is also an amazing vegetable gardener and we all admire his garden with envy!
Working in the office are: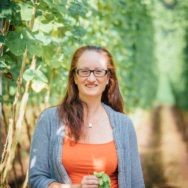 Jo Williams – Homebrew Queen, Beer Lover, Animal Lover, Wonderwoman, the whole office would grind to a halt without her.  Over the years, Jo has developed an infectious knowledge of all things hop and as well as running the Homebrew Hops side of the business, she guides many tours around the farm, and manages to keep us all in order.  As the first point of contact at Stocks Farm, you know your hop questions will be answered and your home-brew supplies will be replenished speedily and efficiently.  And if you have any questions about your horse, she will definitely be able to answer that too.
All the staff photographs were taken by Sian Mercer, My Rural Tribe Photography.
During the spring and autumn we employ a total of 65 seasonal staff to help establish and harvest the hops and fruit.  We are currently recruiting for the 2018 harvest.  Please click here for more details.
Our Philosophy
Maintaining close working relationships with our employees and customers, as they are integral to the growth of our business
To develop our farm and business while maintaining high ethical standards
Choosing environmental, social and commercial strategies that also increase profitability
To produce a high quality product whilst constantly seeking new markets
To develop new varieties, new ideas and new ways of increasing the efficiency and productivity of the business, while being sustainable
Respect the local environment and strive for high standards of farm practice