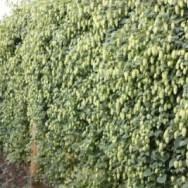 At Stocks Farm we grow over 100 acres of British Hops, making us one of the largest hop producers in England! We produce enough hops to brew about 46 million pints of beer and this year was the first time we made Green Hops available to Home Brewers.
 What is Green Hop Beer?
Rather than using hops that have been dried, the hops are picked direct from the field and added to the beer within 24 hours of harvest.  Time is key as the hops need to be added within hours of picking or they will very quickly start to rot and compost.  Green Hop beer is said to bring special fresh aromas and flavours to beer making it rather exciting and unique. Keen brewers, large and small, make quite a big deal of this and these are cause for celebration across the UK and the rest of the World.
This only happens once a year!
What Varieties are Available?
As you can imagine, each variety is harvested when it is ripe. Mother Nature plays the ultimate part in this. We cannot exactly specify which hops will be available on the day, however, based on the 2017 harvest, the order that we picked our hops were as follows:- Goldings; Phoenix; First Gold; Sovereign; Endeavour; Jester; Pilgrim and Target. Therefore your order could be any of the listed varieties but we are sure this all adds to the mystery and excitement of your beer. Once picked, the hops are placed into net bags ready for collection.
What Quantities are Available?
Green hops require between 6-8 times more hops compared to traditional leaf hops. We will be selling Green Hops in 100g & 500g bags.  Please be aware that due to evaporation of Green Hops, the weights ordered may vary due to the water loss which quickly occurs after harvesting.
How to Order?
Homebrewers will need to wait till next year now!  From the end of August 2018, you will be able to reserve your green hops on line from our shop.  More details will be available closer to the time.
When Can You Collect?
All orders will be available for collection only, due to the nature of the delivery services and we could not guarantee that they would arrive in the freshest condition needed to make the perfect brew.
Customer Comments ~
Homebrewer Sep 2017 – "My first attempt, very different.  Need to have another go in 2018"
Homebrewer 2016 – "I was really please with the results, definitely do next year too"
Homebrewer 2015 – "Not like anything I've ever tasted before, but very tasty"