Open Farm Sunday ~11th June'17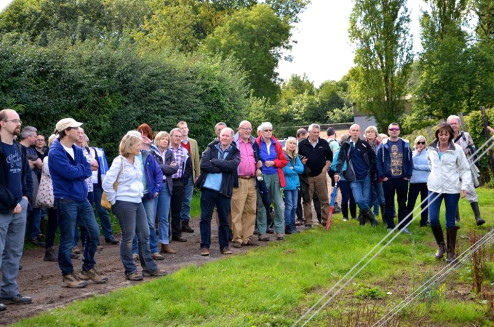 Stocks Farm, Suckley are delighted to be supporting LEAF Open Farm Sunday for the first time this year. Please come and join us on SUNDAY 11th JUNE 2017 starting promptly at 11am until 1pm. This is a great chance for the local community to see what happens on the other side of the farm gate and then to visit other farms in the area for a different experience.
Hops are a huge part of the local history, and all are welcome to see how hops are harvested for brewers to use in their beer throughout the UK and across the world. To start the morning, there will be a walk through the hop yards with Richard & Ali Capper, a tour of the BRUFF hop picking machine and kiln, and then a visit to the brewery on the farm where you will be able to sample some beer brewed using hops from the farm! Everything will be explained from the growing systems and structures in the hop yards, to pest and disease management, through to the economics of modern hop farming and finally the brewing process.
The Unity Brew House is the first brewery to be situated on a hop farm in the UK so you can see where the hops are grown, picked, processed and then brewed all in the same place. Owned by husband and wife team, Hani and Sarah Saleh, the brewery opened in November 2016 and has been very busy since supplying local pubs and shops with their delicious selection of beers. They also have a licence to sell beer direct from the brewery at certain times including Open Farm Sunday so you will be able to enjoy a pint on the day or buy some to take home. Also available for sale will be delicious home grown and pressed apple juice.
Stocks Farm is a 200 year old family owned and run Hop and Fruit farm on the glorious Herefordshire/Worcestershire border. It has been in the Capper family for more than half a century, and is proud to be growing quality British Hops, Homebrew Hops and Apples in an area of outstanding natural beauty.
Entrance will be free with a voluntary donation to Suckley Primary School. On the day please follow satnav to WR6 5EQ or follow the parking signs. Please arrive promptly for 11am.
For more information please contact:
Stocks Farm, Suckley, Worcestershire www.stocksfarm.net, Jo Williams on 01886 884202 or email jo@stocksfarm.net.
The Unity Brew House, The Old Chicken Shed, Stocks Farm, Suckley, Worcestershire WR6 5EQ. www.unitybrewhouse.co.uk Sarah or Hani on 01886 884110 or email Hani@unitybrewhouse.co.uk or Sarah@unitybrewhouse.co.uk.
To find out more about LEAF and Open Farm Sunday visit www.farmsunday.org or www.leafuk.org