Job Opportunities – Seasonal Work Apple Picking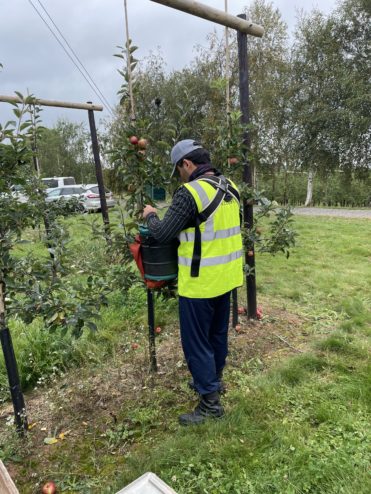 POSITIONS:
Seasonal work apple picking. Duration approximately 6-10 weeks.
HOURS:
07:30 – 16:30 5-6 days per week, Occasional overtime required. weather dependent.
SALARY:
£9.50 per hour + Bonuses. Holiday pay will be paid at the end of the contract.
CLOSING DATE FOR APPLICATIONS: 5th August 2022
To apply, please email: felicity@stocksfarm.net
EXPERIENCE: No experience necessary. Full training will be offered.
RURAL LOCATION: Pickers must have their own, or reliable transport to site. There is NO overnight accommodation available for the 2022 season.
EMPLOYMENT STATUS: You will be employed by RMO, RCO and AM Capper, Stocks Farm. You will be paid ((MONTHLY)) via BACS, and you will be run through our payroll system, which is reported to HMRC. We will need your NI number to process you on our system.
About Us:
We harvest nearly 10 million dessert apples, 540 tonnes of cider apples and enough hops to brew 46 million pints of beer from our 200 acre farm.  We are in beautiful countryside with rolling hills and gorgeous views in the middle of the village of Suckley, Worcestershire. Our nearest towns are Bromyard and Malvern. Everyone is very friendly and welcoming and if you like beer, there are a couple of local pubs, and a working brewery, located here on the farm. We work hard throughout the year to grow and supply the very best apples and hops in the industry, maintaining a strong partnership with our retailers and breweries is high on our agenda. We are members of the Assured Food Standards and compliance with audits is all part of our daily life.
What the Role Involves:
Apple picking work is located in our orchards around the main farmyard. You will be picking apples as part of a team either on the ground or on a platform. You will be supplied with a picking bag to hand pick the apples into it before transferring to apple bins. Apples are picked with size grading and colour requirements.
Duration of Work:
The picking season is August – October.
Shift Patterns:
As in most farming roles we are in the hands of Mother Nature so generally shifts will be 07:30 – 16:30, five or six days out of seven. There needs to be flexibility with times so please let us know in advance if you have any concerns.
Fitness:
Due to the nature of the work we ask that everyone accepting the role are reliable, hardworking and physically fit and happy to carry out the tasks list. If you have any questions or want to discuss this in more details, please do not hesitate to contact us.
Breaks:
There is a total of one-hour break time each day. This is 15 minutes in the morning and afternoon with a 30-minute lunch break. There are portable toilets and handwashing facilities in each orchard and facilities available next to the picking shed.
Uniform:
For the harvest we do not provide any uniform, so we ask that you wear sensible footwear and clothing. Mornings can be cool, so we recommend layers.
Time off:
We would rather you do not book holidays during working for us. Any days off need to be discussed before you are offered the role. If you do have any dates between August and October, please discuss with Felicity Beaumont so we can see if we can accommodate your absence.
Induction Session:
A two hour session will be held approximately two weeks before your start date. Inductions will be held for staff to have training on their role and complete all necessary paperwork. This is a great way to get an insight into what is required of the role.
The session will be approximately 2 hours long.
Workers Welfare:
A prospective employee will need to have one of the following:
• A passport or national identity card
• EU/EEA/Swiss citizens: Share code (supplied by gov.uk) to confirm settled or pre-settled status.
• A drivers licence
All employees will receive the following:
• particulars of employment
• wage slips
• full 'on the job' training
• an induction of the workplace
• the hours of work
• working time regulations
• a risk assessment documentation
• health & Safety training
• new starter questionnaire
• a health questionnaire
• a document on how to resolve problems at work including the grievance & disciplinary policy
• a document on farm policies and procedures
• a description of the work to be performed
Testimonials:
Sam Gardner – Student
' I'd like to thank you for the opportunity to work at Stocks Farm over the summer. The challenge of communicating across language barriers over long hours was a good experience for the future.'
Cain Williams – Student
'Working at Stocks Farm was a pleasant and fulfilling experience, made better by the superb staff who are always willing to help and make you feel part of the team.'