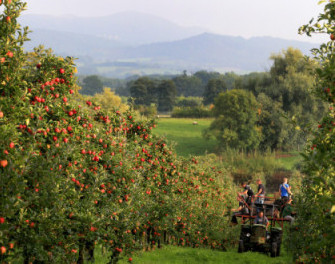 At Stocks Farm we grow 3 main varieties of dessert apples, Gala, Braeburn & Red Windsor. We are proud to be part of Wye Fruit  producer organisation.
Gala Apples: English Gala are now the market leading dessert apple in the UK. Most of our dessert apples are delivered by ABE Transport to Wye Fruit in Ledbury where they are stored, graded and packed for sale through UK supermarkets.
Braeburn Apples: A wonderful crisp and juicy apple, originally from New Zealand, it's a later variety, picked in mid-late October and stores well. English Braeburn is a big success. It tends to taste better than imported fruit and has a lower carbon footprint.
Red Windsor: This is an apple that was discovered in our village and one that we are very excited about. Red Windsor is special not just because it is British but also because it has a wonderful sweet and tangy taste. Red Windsor is picked before Gala and is one of the first apples to look out for at the start of the British apple season. It is much more complex in flavour than most red eating apples today. It has a wonderful dark red skin and is a more robust apple. It is perfect for eating in the hand or for using in recipes and goes especially well with pork.
Red Windsor is not to be confused with Early Windsor which is a name used for Alkemene and Cevaal in the UK market. Red Windsor is distinctively darker red than either of the Early Windsor varieties.
Stocks Farm appeared in The Times and The Telegraph at the start of the apple harvest September 2016.  In 2017, Red Windsor appeared in the autumn edition of WR Magazine.  Click here to read the full article.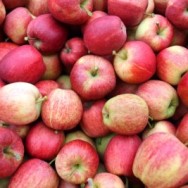 There has been significant change on the farm since 2014 with the planting of our first Red Windsor Apple Orchards. The planting of the 2 orchards with 15,000 thousand trees took place over 2 days.
Farm Visits: We welcome visitors to the farm by prior arrangement. April is spectacular for a Blossom Walk and we often do school visits in the Spring to explain pollination and fruit formation. The harvest is also a wonderful time to visit (during September & October) to see the fruit being picked both by hand and mechanically. Please ring for more details.   The beautiful photos below were taken by Chris Sandys, a local photographer. The 2012/13 winter was notable because the UK experienced a larger influx than usual of Waxwings due to the failure of the berry crop in Scandinavia. The birds enjoyed feasting on the Gala apples left in our orchards. Apples are left unpicked if they do not meet the retailer specification for colour or size.
We want to thank Sian Mercer, My Rural Tribe Photography for taking these lovely photos of John, George and Richard in the apple orchards.