Receiving recipes from our homebrew customers is fantastic!  It gives us all here at Stocks Farm a real sense of value, just knowing that our HomeBrew Hops are part of your beer.
Here are some examples & please send your recipes where our HomeBrew Hops have been used to hello@stocksfarm.net

The Harvest Queen
Homebrewer – Roland Glew
Final volume: 6L
OG: 1.049
FG: 1.010
App. Attenuation: 79%
ABV: 5.1%
Fermentables:
1.2kg (64%) Belgian Pale Ale Malt
600g (32%) Floor Malted Bohemian Pilsner Malt
75g (4%) Flaked Wheat
Mash – 6.5L
66C for 60 minutes, raising to 75 for Mash Out
1.5L for sparge
Boil: 60 Minutes – all additions of Green Hop Sovereign.
First Wort – 30g
20 Minutes – 80g
15 Minutes – 80g
10 Minutes – 80g
5 Minutes – 80g
Cold Break via Ice Bath – hops left in during cooling.
Dry Hop added 18 hours after pitching – 80g for 3 Days
Pitched half a sachet of WLP001 California Ale Yeast.
Fermented at 20C
Fermented dry in 5 days, then primed for 2.0 volumes.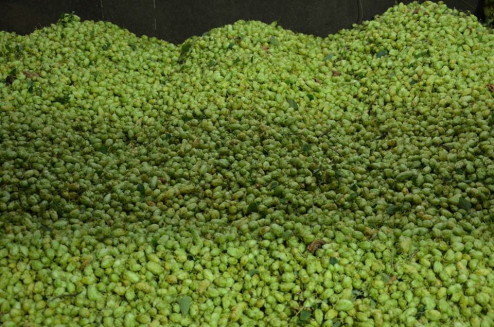 What is Green Hop Beer?
Rather than using hops that have been dried, the hops are picked direct from the field and added to the beer within 24 hours of harvest.  Time is key as the hops need to be added within hours of picking or they will very quickly start to rot and compost.  Green Hop beer is said to bring special fresh aromas and flavours to beer, making it rather exciting and unique. Keen brewers, large and small, make quite a big deal of this and these are cause for celebration across the UK and the rest of the World.  This only happens once a year!  To read more, click here
Experimental Beer – GN37 & GP75
Homebrewer – Roland Glew
7.5L water
600g Belgian Pale Ale Malt
400g British Pearl Malt
Single Infusion Mash at 67C, 2L water to sparge.
Wort split in half, to make two batches. The boil routine for each batch was
60 minute boil
10g in at First Wort
10g in at 20 minutes remaining
10g in at 10 minutes remaining
Both batches gave 4L @ OG 1.042
White Labs WLP001 (California Ale Yeast) pitched.
20g dry hop added 6 days after pitching, for 6 days.
Homebrewers quote – "I really like both hops and find them very different; in a very good way."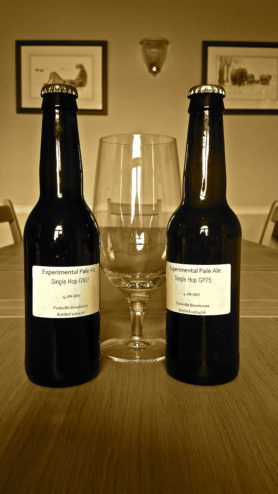 Every year we grow some new hop varieties as we are always seeking something NEW, something different and something the market has not seen before! This is how Endeavour and Jester started on our farm. We selected GN37 & GP75 on its aroma and have now grown it for the first time. We have very limited quantities. A few homebrewers have now brewed with these and great feedback has been provided.
GP75 Aromas: very pungent grapefruit, citrus & lime. Aroma score at least 9/10.
The hop is out of the British Hop collection and was originally from a cross in 1978 between 19/73/3 (a grand-daughter of OR55) and male 321 (a seedling of Neomex). It is wilt tolerant.
GN37 Aromas: wild american, stinky, sweet, polish. Aroma score: 8/10
The hop is out of the British Hop collection and was originally from a cross in 1993 between 22/86/42 (mainstream breeding lines) and 29/86/87 (a seedling of Yeoman). The 2004 wilt test found it to be wilt resistant. 
Sovereign Green Hop Ale

Homebrewer – John Baker
An English "best bitter/pale ale" brewed with green Sovereign hops grown at Stocks Farm, Suckley, Worcestershire.
General-
Batch size: 23 litres
Boil size: 30 litres
Boil time: 60 minutes
Full Mash
Mash time: 90 mins
Mash temperatature: 67°C
Efficiency (assumed): 75%
Colour: 11.2° SRM
Bitterness: 32.3 IBU
Alcohol: 4.4 ABV
Grain Bill-
Maris Otter: 4.0 kg   (90%)
Pale Crystal (30L):   0.4 kg   (9%)
Midnight Wheat – US (550L):   0.05kg (1%)
Total Grain Bill: 5 kg
Hops-
Target dried leaf hops: 30 grams for 60 minutes
Sovereign green hops:   60 grams for 15 minutes
Sovereign green hops:   60 grams for 5 minutes
Sovereign green hops:   60 grams at flameout; then steep for 20 minutes before chilling wort
Note: This recipe was based on a conventional recipe using dried leaf hops, however using five times the dried leaf hop quantities normally used. I brewed this beer the day after collecting my 200grams of green hops from Stocks Farm. I hung the hops in my garage overnight and when I weighed them I had a total of 180 grams. I assume that they had "lost" some of their natural moisture content. So my learning from this is to brew as quickly as possible after collecting my hops.
Yeast-
Fermentis Safale S-04 UK
Other Ingredients
One Protofloc tablet: 15 minutes before end of boil