At Stocks Farm we grow over 100 acres of British Hops, making us one of the largest hop producers in England. We produce enough hops to brew about 46 million pints of beer. We are the only farm in Britain selling our Hops direct to Homebrewers.
We grow hops on two different growing systems: tall hops and low trellis hops (being harvested by our red Pattenden harvester in the photo below). We produce 7 tall varieties: Pilgrim, Target, Phoenix, Goldings, Jester®; Olicana®, GP75 and 1 hedgerow varieties: Endeavour. We also grow several trial varieties, working closely with The British Hop Association and Wye Hops to identify new English hop varieties with potential for the future.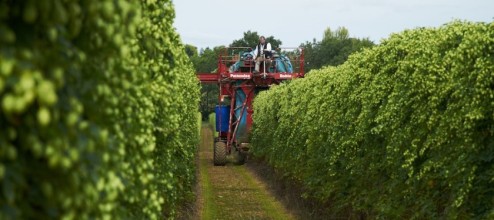 Hops are a perennial crop, the plants grow back again the following year. They emerge in March and by July the plant is fully grown. In late July/early August they come into "burr" and 3 weeks later they come into hop. We begin harvesting in the first week of September and hop picking tends to take 4-5 weeks to complete.
When picking the hops, we work hard to eliminate leaf, strig and string, so that only the hop flower is dried and baled. For more information about the hop growing year explore The British Hops website.
Biannually, we host the Charles Faram Hop Walk. Brewers & beer writers from across the UK are invited to listen to speakers from the UK, Czech Republic, Slovenia, Germany and USA reporting on the Hop Crop. The guests then have the opportunity to walk through the hop yards and witness the picking machines in action before baling and drying in the hop kilns. Their days usually finish with a taste of various beers from The Hop Shed brewery.
Of course, there is nothing more beautiful than capturing winter sun and snow on a hopyard. Before the bines start to grow again, the framework remains in place, providing a different aspect to hop growing.