A Virtual Tour of Stocks Farm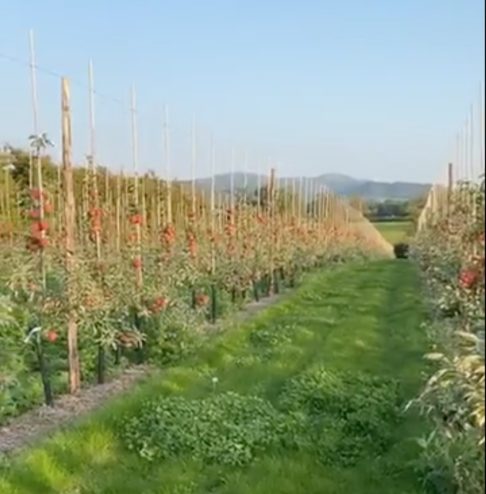 For the last few years, we have hosted Open Farm Sunday at Stocks Farm – encouraging people from the local area to come and see what we're doing (In fact, you can read about previous year's tours here: Open Farm Sunday 2019 or Open Farm Sunday 2018) We love welcoming people to the farm to have a look at what we do – from the orchards and hop yards to the kilns and hop picker – we really enjoy giving people an opportunity to understand what goes in to farming here at The Stocks.
The 2020 Open Farm Sunday was postponed, due to the ongoing Covid-19 pandemic – normally held in June but pushed back to September. We were unable to host in September because harvest is such a busy time on the farm and we couldn't risk general public exposing our staff to the virus so when the Open Farm Sunday team asked us about doing a virtual tour, we leapt at the chance!
Being able to still show people the farm in such a tricky year was such a pleasure! If you would like to go on the full virtual tour, click here: Virtual Tour or carry on reading for the highlights…
The tour started in the two-year old Junami orchard and included magnificent views of the Malvern Hills. Close ups of the fruit showed the impact of two frost and hail episodes with marks on the fruit then destined for juicing.
Ali moved on to looking at the environmental sustainability of the farm, highlighting the wild flower strips in the orchards, bee hotels for solitary bees and borrowed bee hives too for pollinating the orchards. We also saw some of the Integrated Pest Management (IPM) system with the mating disruptor for codling moths allowing us to use lower pesticides as this helps to keep the pests to a manageable level.
Walking through into the hop yards, Ali showed us a recently harvested area of Goldings – focussing on the leftover bines and the freshly planted cover crops – a mix of black oats, rye and phacelia – a great way of protecting the yards from soil erosion. There were other yards that hadn't been harvested yet – Ali showing us the Olicana and Jester hop bines growing up the wirework.
A quick look around the cider fruit showed another impact of Covid-19 – the fruit remained in the orchards as it was unwanted. The cidermakers haven't been making as much cider and have asked growers to only send a proportion of their fruit, or in our case, none at all.
Despite a difficult season, it was great to welcome people to Stocks Farm, albeit in a virtual rather than physical way. We're hoping that we can welcome you all back in 2021!
In the meantime, enjoy the Virtual Tour from last year!