Hop Stringing – one of the first signs of Spring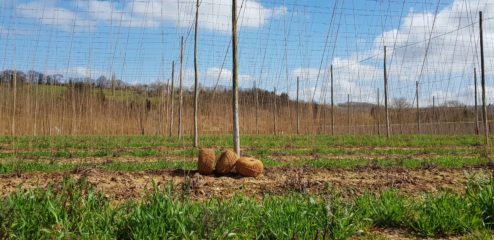 Over winter, the fields on a hop farm can be fairly quiet – ours certainly are. This time is used wisely however to service machinery, tidy up and get ready for the year ahead – all whilst eagerly checking out the hop yards for signs of life.
These checks usually start in March. As with all perennial plants, we are beholden to the weather – things start waking up much sooner with a mild winter or it can all be later if we get snow in March, like 2018! Its such a joy to see the shoots coming back up and work commences to get the hop yards ready for the new season.
Tall Hops
Our tall hops must have the string to grow up. The hop bine grows up the string that is cut down at the end of the season, so stringing is an annual task. The string goes between the ground peg and the hook on the top of the wirework (16ft high) to create the hop growing framework. The string that we use is a natural biodegradable coir string made from coconut husks. The bine (stem) sting and leaf is all composted into a "hop waste mulch" that we use in the orchards to suppress weeds, prevent moisture loss and improve soil condition.

The balls of string we use are pretty large and are roughly 650m in length. The string is fitted onto the ground peg and then taken up to the hooks on the top of the wirework. To do this, we use a special tool called a "monkey" to help! There are a variety of patterns of stringing that have been devised over the years – each designed to optimise yield and ease harvesting, depending on variety and region.
At Stocks Farm, each year we put up NEARLY 600 MILES of string!
Once the string is in place, we wait for the hop shoots to start growing, and then begins the all important training of the hops. Did you know hops have to be trained? Depending on the variety either two or three shoots are tied/twiddled, clockwise, to each string. If they are tied anti-clockwise, they will fall off! If we have a windy spring, the hops may need to be re-tied several times. All of the hop training is done by hand!
Once this flurry of spring activity is completed, they are then left to grow up their framework and, dependent on variety, will reach the top by mid/late July. It's then on to the next exciting step – lateral growth and hop burrs…