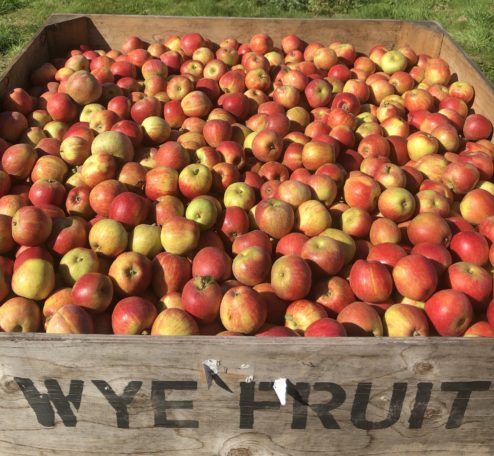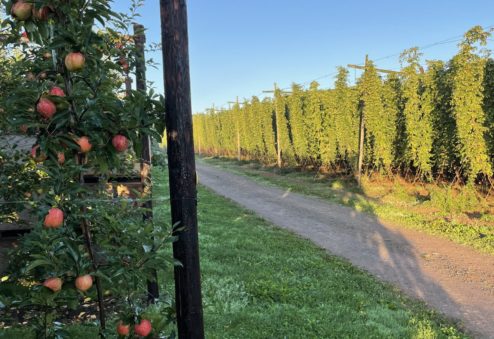 There was a couple of weeks on the farm this autumn when apple harvest and hop harvest were going on in parallel – tractors and trailers full of hops were meandering past tractors with bin trains full of apples. The frenetic weeks were due to the ripening times of both crops, as we always pick at the optimum levels. and certainly one of the most exciting times of year on the farm!
Our apple harvest began with our Red Windsor orchard. This early ripening variety picked well this year, after a nervous Spring worrying about the impact of frost, the apples picked well with our team, and tasted delicious.
Our main variety at Stocks Farm is Gala – we have several orchards full of these wonderful apple trees because the variety seems to suit our aspect and conditions well. After planting a couple of new orchards over the last few years, the young trees provided us with good quality fruit.
A patch of Sunburst apples were picked too – the apples looking and tasting wonderful – this unusual variety is new and features bright orangey coloured skin with a wonderful pink marbled inside. They taste of the sunshine, with tropical flavour notes.
We have two apple tree trials on the farm too – one is a mix of different apple tree varieties planted by Nick Dunn of Frank P. Matthews, and the other trial is a mix of new Gala clones which are being monitored for yield, colour, pest and diseases to find the next clone that we will grow here.
Our last variety is an orchard planted in 2019, Junami apples. Our last picking variety is a really interesting one, known for it's long storage capabilities, but also it's juicy, fruity, crunchy flavour. Junami is able to extend the British Apple season, meaning you can pick up delicious British Apples nearly all year round.
There was a good proportion of apples this year which made the supermarket sizing grade, so all orchards were picked, unlike previous years. There are still some larger or damaged apples that have been left on the trees, but we don't consider these waste as our local bird population descends over winter and they happily snack on what's left in the orchards.
When you next pick up apples in your weekly shop, make sure you check the packaging to find out the variety – it could have been grown here!